James T. Guzowski, President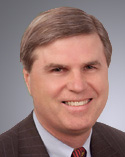 440.348.9215  |  

24610 Detroit Rd, Westlake, OH 44145

Jim is the founder and President of CoreFocal.  His responsibilities include serving individual and closely-held business clients, assisting them with their business planning, tax, estate and financial planning needs.  

His areas of specialization include:
Individual taxation, including personal financial, estate, and retirement planning;
Taxation of pass-through entities, including S corporations, partnerships, limited liability companies, estates and trusts;
Succession planning for closely-held enterprises; and
Acquisition, merger and divestiture transactions
Prior to joining CoreFocal, Jim was a member of the Cleveland office of the international accounting and consulting firm of KPMG LLP, where he was named a partner in 1985.  During his tenure at KPMG, Jim was the Partner-in-Charge of the Cleveland tax practice, and was responsible for operations, human resources, product and service development and client satisfaction while serving a wide variety of clients, from individuals to publicly-held multinational corporations.  
Jim is a Certified Public Accountant and a Certified Financial Planner®.